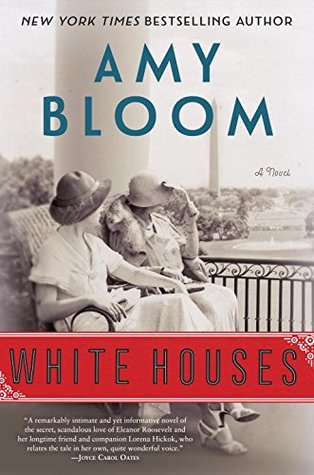 Title: White Houses
Author: Amy Bloom
Published: 2018
Call #: FIC/BLOOM
White Houses is a story about how love isn't always enough to see you through, but the strength of a friendship can power a relationship even when love fades. While the story highlights the relationship between Eleanor Roosevelt and her husband, President Franklin Roosevelt, the main focus is not on their relationship, but rather the one Eleanor has with AP reporter Lorena Hickok.
The book is a fictionalized account of the unique, decades-long, relationship between the First Lady and the "first friend."
The book is told from "Hick's" perspective and reads as if the actual Lorena Hickok had written the novel as her own memoir. The novel begins in 1945, after FDR's death, when Eleanor has summoned Lorena back to her side one more time
. The reader learns about their relationship through a series of flashback stories, often tied to major historical events such as the Lindbergh kidnapping. The book can be slow at times, but it definitely holds the readers interest throughout story. A definite read for fans of Amy Bloom, Eleanor Roosevelt or historical fiction in general.
Jill B
Popular Materials Manager